As movie fans we all are looking for superhero movies and we all are eagerly waiting for come to know any news regarding superhero movies.
Below, you'll find a comprehensive guide of 10 superhero movie release dates for every major comic book adaptation on the calendar.
List of Superhero Movies
01. Venom

Venom directed by Ruben Fleischer is set to release on 5th of October 2018.
Sony Pictures spinoff is intended to kick off a new loosely-connected universe of Marvel Comics adaptations, but Venom will not take place in the same universe as the Marvel Studios/Sony co-production Spider-Man: Homecoming. This is described as something of a twist on the horror genre, and Venom will be portrayed as an anti-hero with Carnage potentially serving as a villain. The movie takes place in San Francisco and is primarily based on two comics arcs: Planet of the Symbiotes and Lethal Protector.
02. Spider-Man: Into the Spider-Verse
Spider-Man: Into the Spider-Verse directed by Bob Perschietti and Peter Ramsey is set to release on 14th of December 2018.
Sony originated this animated Spider-Man movie with an idea by Phil Lord and Chris Miller, with Lord penning the script solo while the duo prepped Solo: A Star Wars Story (which they eventually departed). This animated feature will kick off a new Spider-Man franchise different from the live-action one, but the kicker is that the Spider-Man of this movie is the black Miles Morales, not Peter Parker. Which means we'll get our first non-white Spider-Man in 2018.
03. Aquaman

Aquaman directed by James Wan is set to release on 21st of December 2018.
Warner Bros. enlisted Furious 7 and The Conjuring helmer James Wan to direct, who has said he wanted to craft something different than the DCEU films before it. The ensemble cast includes Nicole Kidman as Queen Atlanna, Amber Heard as Mera, and Patrick Wilson as the film's antagonist, Aquaman's half-brother Orm, who aims to wage war on surface-dwellers.
04. Hellboy

Hellboy directed by Neil Marshall is set to release on 11th of January 2019.
Hellboy creator Mike Mignola came up with the story for this new reboot as opposed to moving forward with a third film in Guillermo del Toro's established franchise, and Stranger Things standout David Harbour fills the role of the titular character for director Neil Marshall, who helmed The Descent and a couple standout Game of Thrones episodes. The film is loosely based the Rise of the Blood Queen arc with Milla Jovovich filling that villainous role, while Ian McShane plays Trevor Bruttenholm and Daniel Dae Kim fills the part of Ben Daimio.
05. X-Men: Dark Phoenix
X-Men: Dark Phoenix directed by Simon Kinberg is set to release on 14th of February 2019.
The sequel to X-Men: Apocalypse has been firmed up as Dark Phoenix, which will tackle the beloved Jean Grey story arc from the comics that was first broached (and botched) in X-Men: The Last Stand. X-Men writer/producer Simon Kinberg has penned the script and is making his directorial debut on the project, which also stars Jessica Chastain as maybe the villain Lilandra and is bringing back pretty much the entire main X-Men cast. The movie won't be skimping on the weirdness, as it's been confirmed that the story will find the X-Men finally venturing to space. Hans Zimmer is coming out of superhero movie retirement to compose the score.
06. Captain Marvel

Captain Marvel directed by Anna Boden and Ryan Fleck is set to release on 8th of March 2019.
Marvel's first female-led superhero film will revolve around the most powerful character in the entire Marvel Cinematic Universe. This iteration of Captain Marvel will focus on the character of Carol Danvers, whose adventures are earthbound but whose powers are based in the cosmic realm. Joss Whedon wanted to introduce the character at the end of Avengers: Age of Ultron, but Marvel didn't want to bring Captain Marvel into the MCU fully formed without first telling her origin story. Meg LeFauve (Inside Out) and Nicole Perlman (Guardians of the Galaxy) wrote the first drafts of the screenplay and they share co-writing credit with Geneva Robertson-Dworet (Tomb Raider), Liz Flahive & Carly Mensch (GLOW), and the film's directors, with Oscar-winning Room actress Brie Larson set to star. And after a lengthy director's search, Marvel settled on Half Nelson and Mississippi Grind filmmakers Anna Boden and Ryan Fleck.
07. Shazam

Shazam directed by David F. Sandberg is set to release on 5th of April 2019.
Making his superhero movie debut, Dwayne Johnson opted to take on the role of the villainous Black Adam in this DC comics adaptation, but Warner Bros. subsequently decided to hold Johnson for a separate Black Adam movie, so Shazam will be all about that hero. Lights Out and Annabelle: Creation director David F. Sandberg is directing, and this served as Warner Bros.' next DCEU film in production after Aquaman.
Zachary Levi is the title superhero character, with Asher Angel playing his boy counterpart Billy Batson. The story revolves around a young boy who can transform into a powerful superhero simply by uttering the word "Shazam!". Mark Strong is playing the film's villain, Dr. Thaddeus Sivana.
08. Untitled Avengers Sequel

Untitled Avengers Sequel is set to release on 3rd of May 2019.
The conclusion to the epic two-part Avengers storyline will close out Marvel's ambitious MCU with a bang. And the real title is a spoiler.
09. Gambit

Gambit directed by TBD is set to release on 7th of June 2019.
Tatum has been keen on playing the X-Men mutant for a while now, and 20th Century Fox finally pulled the trigger on a standalone movie for the fan-favorite Cajun. Production had initially been slated to begin Fall 2015, but when it was pushed back to early 2016, director Rupert Wyatt abruptly dropped out due to personal reasons. Doug Liman (Edge of Tomorrow) subsequently signed on to direct, and while producer Simon Kinberg told us the film will be a heist picture and a "sexy thriller", the film was pulled from its October 2016 release date and sat in limbo for a bit.
Gambit was officially back on track with Pirates of the Caribbean and A Cure for Wellness director Gore Verbinski taking the helm and a Valentine's Day 2019 release date, but Verbinski dropped out two months before filming was set to begin and Fox is once again on the hunt for a director. Joshua Zetumer (Patriot's Day, RoboCop) penned the most recent draft of the script.
10. Spider-Man: Far from Home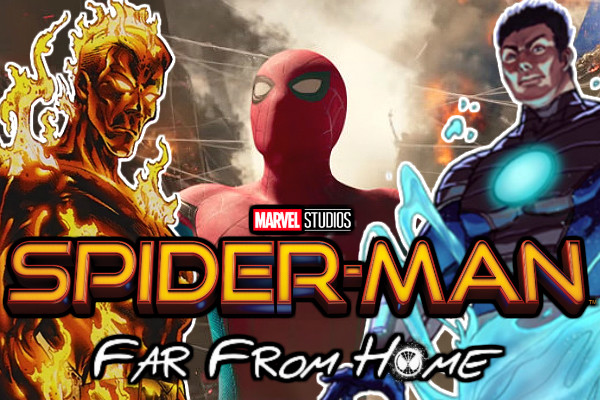 Spider-Man: Far from Home directed by Jon Watts is set to release on 5th of July 2019.
Bolstered by the positive response to Homecoming, director Jon Watts is returning at the helm, and screenwriters Chris McKenna and Erik Sommers, who came on to rewrite Homecoming, are penning the script.
Jake Gyllenhaal is set to play the villain Mysterio, while Samuel L. Jackson and Cobie Smulders also co-star, adding a S.H.I.E.L.D. presence to the whole shebang.